Saint-Quentin and Laon (département Aisne) -- Picardie (Picardy)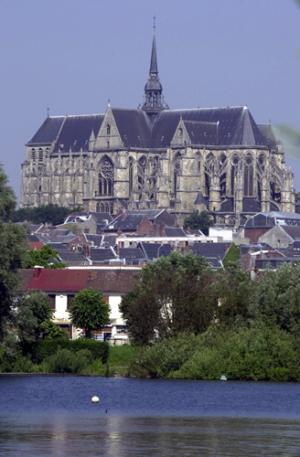 Saint-Quentin: Rome founded the town during the rule of Augustus in order to replace the oppidum (the capital) of the Viromandui tribe (Celtic Belgian people who occupied the region), naming it Augusta Viromanduorum. During the early Middle Ages, a major monastery developed to serve the pilgrimage to the tomb of Saint Quentin, a Roman Christian evangelist martyred in Augusta about 300AD. The total settlement was known now by the famous martyr Quintinus. The Saint Quentin's story is here. His feast day is October 31st.

The city was sacked by the Vandals in the year 407, followed by Attila the Huns in the year 451, and others later. After all these disasters, Charlemagne helped the city to repair its ruins and enrich his church, dedicated to Quentin and containing his relics (first recovered in 358AD). The city of Saint-Quentin was surrounded by high walls in the ninth century, which unfortunately did not prevent the Normans or the plague in the year 883 from taking their toll. Saint-Quentin was the capital of County Vermandois. From the tenth century, the counts of Vermandois (issue of the Carolingian, then Capetian families) become very powerful. The city grew rapidly around the licensed market day (fair) and pilgrim trade. The Vermandois gave the city to king Philippe Auguste in 1191. Saint-Quentin enjoyed the fortunes of a province capital and a royal city. So, in the second half of the eleventh century (a very early date), a municipal charter guarantees a commune government and a large degree of autonomy. The counts of Vermandois, now were conjoined with the crown of Philippe Auguste, and said to be descended from Charlemagne. It was good policy at the time, trying to focus on the people, so that the new charter expands the old franchises of the city giving rights to the merchant class -- propert and criminal rights along with a secure currency. He gets persons for his army in trade.

During the fourteenth century, Saint-Quentin suffered instead of prospered from its strategic position. It undergoes the French-English wars (Hundred Years' War). In the fifteenth century, it is disputed by the king of France and by the dukes of Burgundy (as were many of the cities of the Somme). Ravaged by the plague on several occasions, its population decreases, while its economy is in crisis. Its fair increasingly became irrelevant, while agricultural production diminished, and strife continued. It faced major expenses to maintain fortifications and arm troops as cash dwindled.


Mid-July 1430, around noon, Jeanne, La Pucelle d'Orleans passed, it is said, through Saint-Quentin (while it was under English control) on the road that led to Paris, she crossed the city by entering through the gate at Saint-Nicaise Faubourg Saint-Martin, took the Rue Saint-Jean and went toward sthe Northern gate. Joan of Arc was escorted to Beaurevoir Castle, then to her sad fate at the city of Rouen (May 1431). The Burgundians (who turned her over to the English) tried unsuccessfully to seize the town of Saint-Quentin several times, thereafter, after it returned to France.

In 1560, King Francis II, confirmed in writing that the exercise of civil justice should remain in the hands of the bourgeoisie; but the Spanish were already on the doorsteps. The Spanish army of Philip II, commanded by General Chief Emmanuel Philibert, Duke of Savoy, inflicted a severe defeat on the Constable of Montmorency, sent by Henry II to the rescue of the city. Saint-Quentin endured the siege of the city in 1557; and, after 17 days of a heroic defense, during which the French army, sent to rescue the city of Saint-Quentin, was destroyed in the disastrous Battle of Saint-Laurent August 10, 1557, the city was washed away by the storm of force, the residents moved along the sword. Fifteen hundred burghers of the city perished in the famous siege, but their stubborn resistance saved the kingdom of France, by buying time. By the peace of Cateau Cambraisis (1559), Saint-Quentin returned to France. The people could not think of allying with the Guises, Spanish allies. According to legend, King Henry IV was received at Saint-Quentin warmly, in December of the year 1594.

The city passes through a few hundred years of relative peace and prosperity, under the Bourbon regime. In 1814-1815, Saint-Quentin is occupied by the Russian army, but without damage. In 1870, during the Franco-Prussian War, the population rejects the invader on October 8th, but the city fell during the second offensive. Saint-Quentin was decorated with the Legion of Honour. In 1871, on January 19, the French army is defeated near the town. The First World War brought it a terrible blow, lying or several years in the middle of a war zone. After the evacuation of the population in March 1916, the enemy systematically loots property and industrial equipment lost or destroyed. The fighting ruins 80% of buildings (including the Basilica). Official City Website


Laon: Laon, sitting atop a hill, has for at least 2000 years been a key to resisting invasion. The Romans found the site fortified, strengthened it and renamed it Alaudanum or Lugdunum Clavatum. It was vital point in the defense against the Franks, Burgundians, Vandals, Alans and Huns. Remigius, archbishop of Reims, who baptized Clovis, was born in the Laonnais region and began the episcopal see at Laon (487 AD). The city had a close connection to Charlemagne, having been the city of birth for his mother, Bertrada. At her death in 783, the king buried her at the Saint Denis Basilica with great honors.

During the Hundred Years' War Laon was attacked and taken by the Burgundians, who gave it up to the English, to be retaken by the French after the consecration of Charles VII. It saw service during the 16th century religious wars, the Napoleonic wars and Franco-Prussian conflict (1870), where the citadel blew-up damaging the cathedral, La Cathédrale Notre-Dame de Laon, a Gothic-style structure from the 13th and 14th Centuries. Although the cathedral suffered some damage during the French Revolution, too, it escaped World War I unharmed, although the Germans used the site for defensive fortifications durin the Great War. It suffered much damage in the German bombing of the area in 1944. The old episcopal palace, contiguous to the cathedral, is now used as a court-house. L'Eglise and l'Abbaye Saint-Martin and the Church at nearby Vaux are old (12th Century) as well. http://www.laon-ville.net/accueilEN.html -- http://fr.wikipedia.org/wiki/Laon

Laon has a connection with the Shroud of Turin. The Face of Laon icon at Laone "is obviously copied from the Mandylion/Shroud, and its paleo-Slav inscription refers to the source as the Image of the Lord on cloth." Moreover, this representation comes from an early period, which helps prove two points; one-it was done in the east and it copied something that was already old and venerated. http://www.mystae.com/restricted/reflections/messiah/shistory.html We have noted elsewhere the history of the true shroud that now rests in Turin, but was once in France. If you are interested: GO HERE -- le Saint-Suaire.

En évoquant la ville dans une lettre à son épouse Adèle, Victor Hugo écrivait ceci: « Tout est beau à Laon, les églises, les maisons, les environs, tout .... » A new church in Laon (qui sommes nous): http://www.eglisedelaon.fr/eng/index.htm. Others to explore à Laon: Église Notre-Dame-la-Profonde (ancienne), Église Saint-Corneille et Saint-Cyprien (ancienne), Église Saint-Jean-du-Bourg (ancienne), Église Saint-Martin, Église Saint-Martin-au-Parvis (ancienne), Église Saint-Pierre-au-Marché (ancienne), Église Saint-Remy-au-Velours (ancienne), Église de Leuilly, Église de Vaux-sous-Laon (This list is from: http://www.patrimoine-de-france.org/oeuvres/richesses-79-22600-151985-M190257-364473.html). And another nearby: Clocher de l'église d'Athies-sous-Laon. Laon is a good spot for cycling and walking in the forest of St-Gobain, the site of one of the greatest castles of the Middle Ages, Coucy-le-Chateau. Just-Tour-France

L'Abbaye de Prémontrés at Pont-à-Mousson was founded by Saint Norbert. Having survived the ravages of time, war and the Revolution .... wow is all one can first say at its renaissance. The Pope and Bartholomew, Bishop of Laon, requested Norbert to found a religious order in the Diocese of Laon, so that his work might be perpetuated after his death. Norbert chose a lonely, marshy valley, shaped in the form of a cross, in the Forest of Coucy (about ten miles from Laon) named Prémontré. Hugh of Fosses, Evermode of Cambray, Antony of Nivelles, seven students of the celebrated school of Anselm as well as Ralph of Laon were his first disciples. The young community at first lived in huts of wood and clay, arranged like a camp around the chapel dedicated to Saint John the Baptist, but the ordre soon built a larger church and a monastery for the religious who joined them in increasing numbers.

Going to Cologne to obtain relics for their church, Norbert discovered through a vision, the spot where those of Sainte Ursula and her companions (e.g. Sainte Cordula), of Saint Gereon and of other martyrs lay hidden. The Huns brutally murdered Ursula, the daughter of a British king, King Dionotus of Cornwall, along with eleven thousand others (from Britain?) in Cologne. In part as a result of Norbert's discoveries, women wanted to join the community and a seperate convent was established. This convent survived the Revolution and remained a vital community on its own.

When two rival popes were elected after the death of Honorius II, Norbert helped try to heal the Church by getting his admirer the emperor to support the first elected, Innocent II. At the end of his life he was made an archbishop but he died soon after on June 6, 1134 at the age of 53. On May 2, 1627, the saint's body was translated from Magdeburg, then in the hands of Protestants, to the Abbey of Strahov, a suburb of Prague in Bohemia. The Chancery of Prague preserved the abjurations of six hundred Protestants who, on the day, or during the octave, of the translation, were reconciled to the Catholic Church. On that occasion the Archbishop of Prague, at the request of the civil and ecclesiastical authorities, proclaimed Saint Norbert the Patron and Protector of Bohemia. His Feast Day is June 6th.

The oldest remains in Hirson (an hour drive or less from either Laon or Saint-Quentin) reveal the presence of Celtic camping. Conquered by Cesar's troops who described the Nervi tribe as savages, the town now takes on a different appeal. In the 12th century that the town prospered. This was largely due to its two abbeys, one founded at Saint-Michel to house the Scottish and Irish monks who adopted the Benedictine way of life. The other is somewhat south, the aforementioned Abbaye de Prémontrés. Hirson is surrounded by some idyllic countryside including lakes, waterfalls and forests. Don't miss another nearby church dedicated to Saint Martin -- Église Saint-Martin de Wimy. All about (près Hirson) are ideal spots for fishing, cycling, riding, kayaking, countryside walks about Thiérache or simply relaxing. It's close to Belgium and in the heart of Apple-country, too.



Current Newsletter

New: 09/26/08