Bern / Berne
A Capital City

| | | |
| --- | --- | --- |
| | | |
The structure recognizing canton sovereignty under Switzerland's constitution results in Bern having less prominence than many capital cities. It has only 130,000 inhabitants, however, it remains an important part of the national rail framework. Regionally, Bern serves as hub of an urban transport system. Bern's city-centre maintains the city authority Städtische Verkehrsbetriebe Bern (Bernmobil), operating trams, buses and trolley buses. Largely owned by various bodies in the public sector, Regionalverkehr Bern-Solothurn (RBS) runs the metre-gauge S-Bahn, buses and the long-distance Line G tramway to Worb Dorf (a small village 15kms away from Bern, where it is located a beer brewery called "Egger). The Bern West project will extend tram coverage to a part of the city that is due for commercial and residential growth. Official Homepage of the United States Embassy to Switzerland and Liechtenstein: bern.usembassy.gov/. Die Stadt Bern

Crammed onto a steep-sided peninsula in a crook of the fast-flowing River Aare, its quiet, cobbled lanes, lined with sandstone arcaded buildings straddling the pavement, have changed barely at all in over five hundred years but for the adornment of modern shop signs and the odd car or tram rattling past. The hills all around, and the steep banks of the river, are still liberally wooded. Bern is a World Heritage Site, placing it in the company such legendary sites as Florence and Petra, clearly in a competition for the world's most beautiful and relaxing capital city. http://www.switzerland.isyours.com/e/guide/bern/

A German-born physicist, Albert Einstein, worked out some relatively important theories while employed as a clerk at the Berne patent office, scarcely 700 years after the city's founding. In 1353 Berne joined the young Swiss Confederation, becoming a leading member of the new state. It invaded and conquered Aargau in 1415 and Vaud in 1536, as well as other smaller territories, thereby becoming the largest city-state north of the Alps. It was occupied by French troops in 1798 during the French Revolutionary Wars, when it was stripped of most of its territories. In 1831 the city became the capital of the Canton of Berne and in 1848 it additionally became the Swiss capital. Perhaps its most famous sight is the Zytglogge, an elaborate medieval clock tower with moving puppets. It also has an impressive 15th century Gothic cathedral, the Münster, and a 15th century town hall. http://en.wikipedia.org/wiki/Berne

Today the Canton of Berne, is the second most populous of Switzerland's cantons, with high-profile tourist stops such as Interlaken, Grindelwald, the cog-train to the Jungfraujoch or cable car (Gondola) to the Schilthorn. http://www.bugeurope.com/destinations/ch-bern.html The Parish church at Interlaken with its late Gothic-style tower, dating from 1471, is one of the most photographed sights in the Bernese Oberland. A Taste of Swiss Winter; More Pics HERE
Zürich

In 1518, Ulrich (Huldrych) Zwingli was appointed pastor of Grossmünster, the great church of Zürich.
In Roman times, Turicum was a tax-collecting point at the border of Gallia Belgica (from 90AD germania superior) and Rætia for goods trafficked on the Limmat river. A Carolingian castle, built on the site of the Roman castle by the grandson of Charlemagne, Louis the German, is mentioned in 835 (in castro Turicino iuxta fluvium Lindemaci). Louis also founded the Fraumünster abbey in 853 for his daughter Hildegard. He endowed the Benedictine convent with the lands of Zürich, Uri and the Albis forest. He granted the convent immunity, placing it under his direct authority.

While Basel is named the Swiss Reformation city by some, Zürich certainly rivals Geneva and Basel for that distinction. Zwingli's Zürich and Anabaptist (Swiss Mennonite Church) sites abound. Highlights would include the Zwingli Memorial, the Frauenkirche and the Grossmünster Kirchen, both churches key in Swiss Reformation history. http://www.reformationtours.com/site/490868/page/629487The Anabaptist Memorial sits beside the Limmat River, site of Felix Manz's martyrdom due to his beliefs on baptism. Nearby is St. Peter's Church (early part of the 13th century), also well worth a visit, if not for the building then for its 16th century clock-face, which is Switzerland's largest. Best read on Zwingli: http://www.nndb.com/people/504/000094222/

In 1531, a Catholic armed force of 8,000 men advanced against Zurich's 1500 city-defenders after capturing St Gallen on Lake Constance east of the city (more on the Saint Gall, for whom the town is named, is here). Zwingli was slain, together with 26 members of the Town council and 24 other protestant pastors (a total of 500 Protestants die), as well as his eldest son. A treaty of peace leaves religious boundaries as they are, but prevents any further Protestant expansion in Switzerland. Zwingli's work is continued by Heinrich Bullinger at Grossmünster. Bullinger was instrumental in opening the city to protestant refugees from Italy and England.


Though Bullinger did not leave Switzerland after becoming antistes (honorary title of leadership recognition which derives from Latin anti "before" and sto "stand") of Zürich, he conducted extensive correspondence with leaders all over Europe. He edited a kind of newsletter about political developments. His controversies on the Lord's Supper with Luther, and his correspondence with Lelio Sozzini, exhibit, in different connections, his admirable mixture of dignity and tenderness. With Calvin he concluded (1549) the Consensus Tigurinus on the Lord's Supper. Bullinger played a crucial role in the drafting of the Second Helvetic Confession of 1566. He died at Zürich and was followed by his son-in-law Rudolf Gwalther. Among his descendants was the noted Biblical scholar E.W. Bullinger. http://en.wikipedia.org/wiki/Heinrich_Bullinger

Zwingli, in turn, may have left no direct descendants, but members of his father's family settled in Upper-east Tennesee. George Swingle lived in Buffalo Valley area of Washington County TN, now in Unicoi County. George descends from the father of Hans Huldrich Zwingli, the Swiss Reformer (also named Joann Huldrich or Ulrich (Huldrich's brother, Jakob, lived in Zurich, too)). Family tradition says son Huldrich was in the line, but the male Zwingli line according to history, died out several hundred years ago. Progeny still exist through his daughter. Others in the line include George [Jerick] Zwingli an immigrant to Maryland who also served on the Committee of Observation in 1776 and a Johan Nicholas Zwingli. There are several of that name migrating into Maryland, and they are all related, so this adds to the confusion, but not the resolution of the issue, of how the descent follows.
The site was originally endowed by Charlemagne's grandson, the German king Ludwig, in 853 and later became the church of the Zurich noblewomen's convent. This church also draws many tourists who wish to view its 20th century stained glass choir windows by Marc Chagall (1970). The münster from 9th century convent now has an 18th century spire (and clock-face) that goes together with its gothic and romanesque components.
Basel / Bâle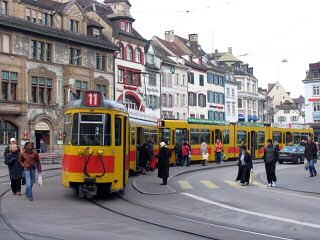 With its red sandstone walls, multicolored roof tiles and twin towers, the Cathedral is a dominant feature of the city. The crypt, the choir, the tomb of Erasmus of Rotterdam, the Galluspforte and the two cloisters are a testimony to the eventful history of its construction over a period of several centuries. During the days of the Roman Empire, the settlement of Augusta Raurica was founded 10 or 20 kilometres upstream of present Basel, and a castle was built on the hill overlooking the river where the Basel Münster now stands. But even older Celtic settlements (including a vitrified fort) have been discovered recently in the area predating the Roman castle. The current city of Basel was called Basilia in Latin, and this name is documented from the year 374 AD. In 1019, the construction of the cathedral of Basel (known locally as the Münster) began under German Emperor Heinrich II. In 1225–1226, Bishop Heinrich von Thun and lesser Basel (Kleinbasel) built a bridge over the River Rhine, establishing a french beachhead for bridge protection. The city's position on the Rhine long emphasized its transportation importance, including for a long time this only bridge over the Rhein. http://en.wikipedia.org/wiki/Basel

In March 1536, the first edition of Christianae religionis institutio (Institutes of the Christian Religion) was published in Latin by John Calvin at Basel. Intended as a defense of the Huguenots then persecuted in France, Calvin's Institutes was an exposition of Protestant Christian doctrine that later became known as Calvinism. Close by Bâle is Mulhouse in France (Mülhausen in German). Both share an International Airport on the border (EuroAirport Basel-Mulhouse-Freiburg). The south-western edge of Germany's Black Forrest touches the suburbs of Basel. The Basel region, culturally extends into German Baden-Württemberg and French Alsace, reflects the heritage of these three European countries. The new high-speed ICE railway line from Karlsruhe to Basel was completed in 2008, while phase I of the TGV-Est line, opened in June 2007, has reduced travel time from Basel to Paris to 3 1/2 hours -- still not quite a day trip. With Switzerland joining the Schengen area on December 12, 2008, immigration checks are no longer carried out at the border; however, Switzerland has not joined the EU customs regime, so that customs checks still are conducted at or near the crossings. see also Geschichte des Basler Drämmlis