Belfort
A city of Liberty


History is a gallery of pictures in which there are few originals and many copies -- Alexis de Tocqueville


On November 4, 1870, the 100-day siege of the massive fortification overlooking the City of Belfort began. Belfort would be permitted, in the end, to remain with France. It became an independent entity (department), while the rest of Alsace-Lorraine submitted to German control. http://www.herodote.net/histoire02181.htm Belfort is the home of The Lion of Belfort, a sculpture by Frédéric Bartholdi expressing people's resistance against this siege. Bartholdi also designed lady liberty, which sits in New York's harbor.

The City of Belfort lies just the north of the Jura Mountains and the south-east of the Vosges Mountains, controlling the "Gateway of Burgundy", a natural route between Alsace and Franche-Comté. The old fortified city lies between the River Savoureuse and the bottom of a cliff at whose summit lies the chateau. Belfort belonged to the Austrian Habsburgs from 1360 to 1636 when the city was taken over by Gaspard de Champagne, Count de la Suze, on behalf of Louis XIII, king of France. http://www.fortified-places.com/belfort.html

Scarcely had the German civil wars of the 16th Century ended, when the next conflicts began. King Louis the XIV strove to extend French territory and regain his Huguenot subjects, who had fled to the Palatinate region (now in Germany) after the revocation of the Edict of Nantes. Belfort was the key to attaining this region and protecting Burgundy from a challenge from the east. The Palatinate region, which had a long history of tolerance, included the west bank of the upper Rhine and part of the region near Hessen. Landgraf, Charles of Hesse-Cassel was the first of the German princes to offer asylum to the Huguenots from France (April 18, 1685).


Lorraine was part of the German Empire when seized by Louis XIV in 1678. It was restored in 1697. The French King's many conquests not only finally secured Strasbourg and Alsace for France, but also laid strong claim to Lorraine, thereby assuring nearly another 300 years of fighting (for example, the War of Spanish Succession (1701-1714), primarily fought in Bavaria and western Germany).

France regained possession of Lorraine, by reversion, upon the death of Stanislaus of Poland (1766). In that time it formally became a part of the French Nation, but France was forced to return a portion to Germany in 1871, after the Franco-Prussion War. See Trier-a history of the area. As a source of irritation, conflicting claims and a checkered history of ownership led (in part) to the Second as well as First World Wars of the 20th century (August 2, 1914: the first day of hostilities takes place along the border (at Belfort) between France and Germany). Many towns in Alsace and Lorraine have two names, of which one is usually the translation of the other. (e.g. Thionville or Diedenhofen -- Betstein oder Bassompierre -- Mainz ou Mayence).

The City of Belfort is the home of Alstom, the maker of the TGV and the Citadis brand streetcar (du tramway (ou tram-train)). Paris is in the midst of its Tramway project; some are done some are planned, and the newest opened in December 2006, a line called Maréchaux Sud.

There is another Lion of Belfort located in Paris at Place Denfert-Rochereau, (also on our map for Maréchaux Sud) named for Pierre Marie Philippe Aristide Denfert-Rochereau (1823-1878), who led the resistance of Belfort to a siege during the Franco-Prussian War. It is an RER stop and Métro stop (lines 4 and 6), too. Formerly known as Place d'Enfer (where one can find the Catacombs of Paris) until D-R's death, it was renamed after the hero. The smaller sculpture you will find at this square in the middle of traffic also was crafted by Auguste Bartholdi, to replicate the one on the mountain at Belfort. Both sculptures face east in defiance of the invading German hordes. The German nation has its own monument over-looking the Rhine (Niederwald Memorial in Hesse), facing west towards France, in defiance of earlier French invasions. Je vous signale qu'une réplique du Lion de Belfort se trouve également au Jardin Botanique de Montréal. I know nothing of its orientation.

Clermont-Ferrand, in the Auvergne region, while famous for the chain of volcanoes surrounding it, has a most reknown public square, Place de Jaude, on which rides a grand statue of King Vercingetorix on a steed and holding a glaive. The inscription reads: J'ai pris les armes pour la liberté de tous -- "I took to arms for the liberty of all". This statue was sculpted by Frédéric Bartholdi. And, the city has built a tramway, one of the first constructed after World War II.

Paris: Past Present and Future -- Other Paris Environs -- HERE -- And HERE

More of France: -- HERE -- And HERE -- Grenoble -- Lyon -- M. Maclet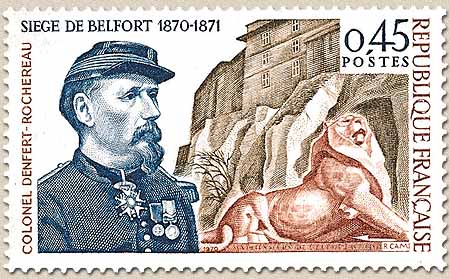 By the way, Belfort does not mean beautiful or good fort.
A belfort in French is a bell-tower

An American Lion, patterned after the one honoring the fallen Swiss Guards at Lucerne: see http://web.archive.org/web/20090801142410/http://geocities.com/Heartland/Pines/3093/pageatl1.html Metz -- Colmar -- Mulhouse -- Troyes -- le Saint-Suaire (Bescançon)-- Lörrach -- Dijon -- Mâcon